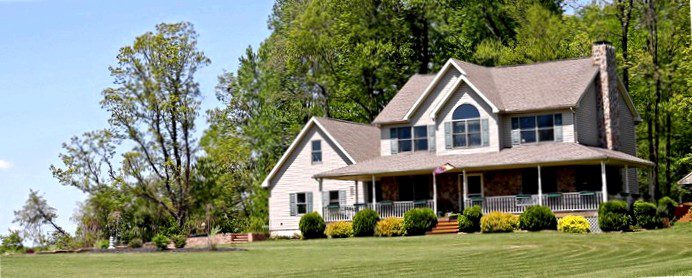 The USDA loan is part of a government-backed loan program that offers 100 percent financing to eligible borrowers. The USDA loan is guaranteed by the U.S. Department of Agriculture (USDA) but offered through private mortgage lenders and helps low- to moderate-income homebuyers purchase homes in rural areas.
One misconception is that the USDA loan, also called the Single-Family Housing Guaranteed Loan, is only for farmers and ranch owners. Fortunately, that's not the case.
Don't rule out the USDA loan until you've taken a look at the eligible locations. There are USDA loan qualifying locations near metropolitan areas in the mid-Atlantic region.
In this post, we'll give you the details of the loan including who may qualify and the highlights.
What is a USDA Loan?
The government backing of the USDA loan makes it possible for lenders to offer the product with a low downpayment and competitive interest rates to qualifying borrowers who have less-than-perfect credit. Gift funds may also be used for the downpayment if you have one.
The USDA loan may be used to build, rehabilitate, improve, or relocate a dwelling in an eligible rural area. A USDA loan can also be used to:
Refinance eligible loans
Install equipment in the home to accommodate a physical disability
Pay for utility connection fees, household appliances, energy-efficient systems, broadband service, and more
Pay for site preparations
A lender that offers USDA loans can help you determine whether or not a USDA loan is appropriate for your next purchase or refinance.
Who qualifies for a USDA Loan?
To qualify for the USDA loan, the property you're purchasing must be your primary dwelling, and it must be in a livable condition.
You don't need to be a first-time homebuyer to qualify, but you do need to meet credit requirements and have a stable source of income. Applicants must also be a U.S. citizen, permanent resident, non-citizen national, or qualified alien.
Income eligibility requirements vary by location. Aside from income, the biggest qualifier for this loan is the actual area where you're buying because the program is meant to provide affordable housing to residents of suburban and rural areas.
You can review the income limits for each eligible location here on the USDA website.
USDA Loan Highlights
Like other low downpayment home loans, the USDA loan requires mortgage insurance premium that's paid by the borrower. Mortgage insurance partly funds the guarantee that covers lenders if borrowers default on the loan.
The upfront USDA guarantee fee is 1.00 percent which may be rolled into the loan amount or paid upfront. The annual fee is 0.35 percent. You may pay the annual fee in monthly installments.
The FHA loan is another government-backed loan program that allows qualifying borrowers to put as little as 3.5 percent down.
In comparison, that loan has an upfront premium of 1.75 percent and an annual premium of 0.45 to 1.05 percent. The USDA loan may be a more affordable option so it's worth considering along with the FHA loan if you're buying in an eligible location.
Final Word
USDA loans open doors to homeownership for homebuyers in certain communities who meet requirements. The first step to shopping for a USDA loan is getting in touch with lenders to weigh your options.