Mortgages are a segment of the financial market that hits close to home for a large portion of the world's population: more than 62 percent of all Americans have a mortgage on their house 1 , while 63 percent of households own their home in the UK, 2 and China's homeownership rate is nearly 90 percent. 3 Globally, the real estate industry in 2020 yielded total revenues of $4,243.6 billion. 4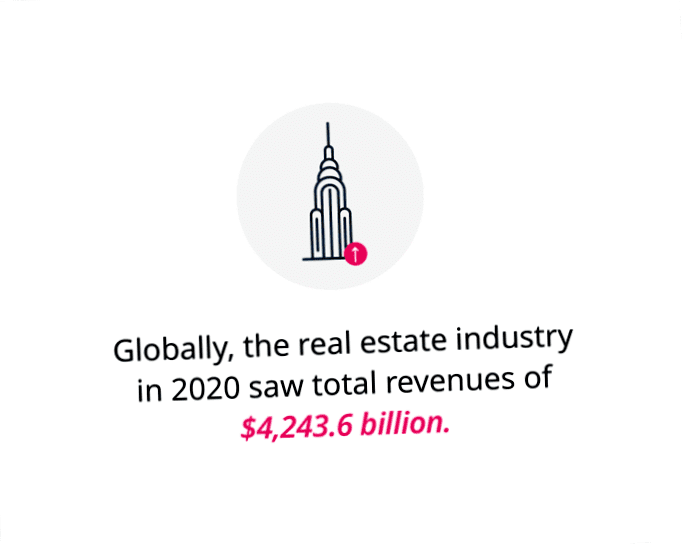 Financial technology – or fintech – is significantly impacting real estate financing for houses and mortgage lenders. In the USA, the market share of online mortgage lenders has quadrupled over the past six years. In 2016, Quicken Loans launched their fully online lending service that generated an increase in their total loan amounts of 22 percent, and LoanDepot.com's digital lending platform saw their numbers grow by 40 percent, where Wells Fargo and Bank of America had only 5 percent and 1.72 percent growth respectively. 5 In fact, in late 2017 and early 2018, Quicken Loans overtook banking triumvirate Wells Fargo, Bank of America and Chase Bank, as the top originator of residential mortgages. 6 By 2020, the largest mortgage lenders, in order, were: Quicken Loans, United Shore Financial, Freedom Mortgage, Wells Fargo, LoanDepot.com, JPMorgan Chase, Caliber Home Loans, Fairway Independent Mortgage, Bank of America and U.S. Bank. Quicken Loans originated 1.1 million loans, nearly double that of United Shore Financial, with 560,798 loans. 7
Fintech is growing quickly, with a sharp focus on the banking and financial industry. While we're exploring fintech and mortgages here, it's important to keep track of the upcoming trends in fintech innovation across sectors if you want a full overview of how it's changing the way people approach money. For those interested in leveraging fintech, you can also learn how to fund your own fintech idea on the University of Cape Town (UCT) Fintech: Disruption in Finance online short course.
Why fintech is overtaking traditional mortgage lenders
A technology-based company that tries to improve financial services is considered a 'fintech' and typically promises to provide faster, more accurate, safer, and more affordable financial services options than traditional mortgage lenders. It also offers consumers ease of access (such as mobility), increased transparency, and the ability to consolidate and aggregate across many different platforms.
…fintech lenders can reduce the time it takes to close home purchases by around nine days.
Fintech mortgages are faster than working with traditional mortgage lenders
Compared to traditional mortgage lenders, fintech lenders can reduce the time it takes to close home purchases by around nine days. With regard to refinancing, the difference is an even more enticing 14 days shaved off from the closing process, on average. 8
Fintech is able to offer more affordable interest rates than traditional mortgage lenders
When looking at personal loans, fintech firms offer lower interest rates than traditional nonbank loans, and similar interest rates to traditional banks. For mortgage loans, interest rates vary by less than a percent between fintech and traditional banks. Overhead costs, as well as operational costs, might be the reason that some fintech interest rates are lower than that of banks. 9
While interest rates tend to fluctuate, purchasing a home is an investment, and a large one at that. The London School of Economics and Political Science (LSE) Real Estate Economics and Finance online certificate course explores how to evaluate property investment options to make informed decisions.
Fintech mortgages offer more flexible requirements than traditional mortgages
Fintech mortgages come with many benefits. Whether it's that the company is available 24/7, or that you can apply from your home computer, when you compare mortgage loan provider Rocket Mortgage (RM), for example, with a local bank, the benefits of a fintech company are apparent: 10
Both require two or more years of verifiable income history
Local banks may require good or better credit scores, while RM allows for fair or above-credit scores with a down payment
Local banks ask for a debt-to-income ratio that's 40 percent or less, while RM allows 50 percent or less
Local banks require the home to be a primary residence where the bank serves, while RM allows for single family, multifamily, or other nontraditional mortgage type
Local banks require borrowers to live somewhat locally, whereas with RM the borrower can live almost anywhere
Local banks typically require down payments of more than 10 percent, where RM may accept down payments as low as 0 percent
The flexibility of fintech mortgages allows those seeking a mortgage to place some of those funds into investments rather than a down payment. For those already comfortable with fintech and online banking, the next logical step is wealthtech, which helps manage wealth through artificial intelligence and machine learning. Have a look at how wealthtech offers another opportunity to manage finances to learn more.
Fintech mortgage startups are disrupting the industry
More than 66 percent of mortgages in the USA are by fintech and nonbank lenders, with Rocket Mortgage – previously known as Quicken Loans 11 – leading the way. This is opening the door for fintech start-ups to disrupt the industry, by making it easier for prospective homeowners to finance their new homes: 12
Zillow Group, founded in 2006, has grown to a company with more than $2.7 billion in revenue
Fiserv, established in 1984, provides technology to the financial industry and has done so before fintech was fintech, providing solutions allowing for loans to be created more quickly
SS&C Technologies Holdings, founded in 1986, provides end-to-end software, and reported $4.63 billion in revenue in 2019
Fair Isaac Corporation, otherwise known as FICO, is related to credit ratings and helps lenders determine how individuals compare to other borrowers. FICO reported $1.16 billion in revenue in 2019
While fintech start-ups are disrupting the mortgage industry, fintech is also changing other financial services. The FinTech online short course from Harvard's Office of the Vice Provost for Advances in Learning (VPAL) explores the current impacts of fintech, and how future financial services will be impacted.
Fintech is being embraced by traditional financiers for financing real estate
Where most banks are still stuck in traditional credit checks, legal work, paperwork, and three-month-long mortgage financing processes, there are financial institutions embracing fintech to finance real estate:
The Bank of Russia is working on Masterchain, a blockchain platform launched in 2017, 13 that will be used for digital mortgages 14
Previously, a Russian-based subsidiary of Raiffeisen Bank International used blockchain for mortgages 15
As other countries adopt fintech and merge it with their traditional mortgage providers, regtech, the regulations of fintech are being explored. Explore the development of regtech to learn more.
Digital lending platforms and the internet are fast becoming an important channels for mortgage providers, with rapid technology innovation leading to greater competition from fintech mortgage start-ups. For financial institutions hoping to compete, a seamless, personalized loan process provided through technology will be to their advantage. A great way to do this is for banks to partner with fintech start-ups for their non-core activities in order to grow their competitive edge and improve their customer proposition, while still focusing on their core activities. This type of partnership is beneficial for fintech start-ups that need access to a larger customer base and a steady financial base. 16