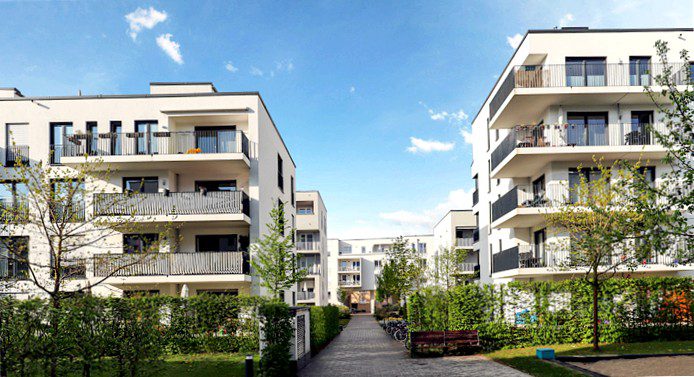 Good news for tenants, bad news for landlords: Despite markedly higher mortgage rates, the mortgage reference rate, which is the benchmark for residential rents in Switzerland, is unlikely to rise before mid-2024, Credit Suisse forecasts.
With mortgage rates on the rise, property owners are facing higher costs. According to a Credit Suisse study of the Swiss housing market, the "conceptually sluggish reference interest rate," as the bank writes, is unlikely to rise before mid-2024 in the most likely scenario. The additional financial burden thus remains with the landlords in the short to medium term, tenants are spared from higher rents for the time being.
In the event of a change of tenant, higher interest costs can generally be passed on in full to the tenant, provided demand permits. However, for existing housing, rents in Switzerland are tied to the mortgage reference rate. This is based on an average interest rate of all outstanding mortgages as determined by the Swiss National Bank and published quarterly by the Federal Office of Housing.
Steady decline since 2008
The sharp rise in capital market and mortgage rates in recent months is likely to turn the corner on the benchmark interest rate as well, Credit Suisse estimates. The reference rate has fallen steadily since its introduction in 2008 to 1.25% (cf. Graphic).
Because all outstanding mortgages and all maturities are taken into account for its calculation, i.e. also mortgages that were still concluded at rock-bottom interest rates and with long maturities, the reference rate reacts strongly slowed down. It can deviate so considerably from the current rates for new contracts.
High inertia of the reference interest rate
The modeling done by the big bank show that an increase in the reference rate is unlikely before mid-2024, indeed, may not happen before the end of the year after next. Even in the "high" scenario, the first increase would not be communicated until December 2023 and thus could not be claimed before the following year, as the rent increases are only possible on the next contractual termination date.
rent increases are only possible in the medium term
Owners of residential investment properties must therefore prepare for a lean period, concludes the bank. However, in the longer term, the benchmark interest rate could rise to 3% by 2027. This would theoretically lead to up to 21% higher net rents if all reduction claims have been met in the past.
Although Credit Suisse expects the interest rate trend to flatten out after the sharp increase in recent months. Still, residential investment properties would not provide complete protection against inflation, at least in the shorter term, she advises landlords.
Tangible assets such as real estate generally protect against inflation. Because of the sluggish reference rate, this rule does not apply across the board. It should be added that when interest rates fall, the signs change. Then landlords have an advantage and tenants are left behind.