Eastern Germany has nothing to offer start-ups? Misconception. They are courted in Dresden and Leipzig. Part four of the absatzwirtschaft series on start-up regions in Germany.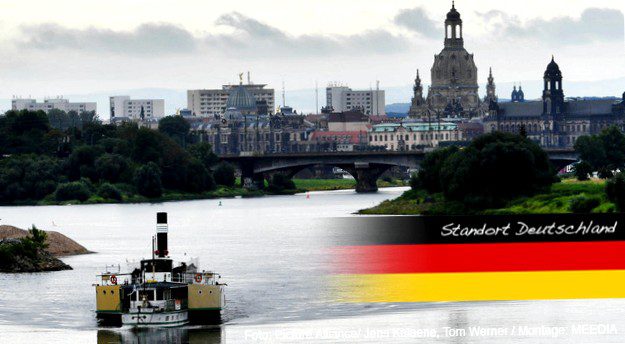 Dresden scores with Elbflorenz flair, low rents and first-class technology research
Justus Nagel gives a friendly wave, grabs a bottle of Club Mate and exits the glass box that separates his startup from the others. Nagel is the epitome of a cool founder in 2016: well-groomed full beard, glasses, black polo shirt. And then there's Club Mate. What it is? Nagel laughs somewhat sheepishly. "Iced tea brew. It's hot right now."
Sensape is the name of the company the 26-year-old founded in Leipzig with two colleagues. They're making billboards interactive with artificial intelligence. For example, at the supermarket, a virtual customer service representative asks about your favorite cookies and then gives you tips on how to make them into dessert. The idea is taking off like a rocket. In year two of its founding, Sensape already employs twelve people. "We continue to grow," assures Nagel.
Sensape was part of the pioneering cohort at Spinlab, Leipzig's flagship accelerator. It sits in the Plagwitz district in a former cotton mill, amid galleries, studios, designer workshops and goldsmiths. Rugged brick walls, graffiti-covered staircases, exposed steel beams: it's the perfect backdrop for unleashing creativity.
Spinlab was founded in 2015 by HHL, a private business school. Since then, HHL graduate Eric Weber and his colleagues have been coaching a cohort of hand-picked young companies to success here every six months. They don't have to pay anything for it, but even get 6,000 euros donated by the city. Spinlab's sponsors include the Porsche Group, which produces the Panamera in Leipzig. Joachim Lamla, commercial director, invites relevant startups to experiment in Porsche's own technology cell.
Saxony has nothing to offer
Nobody can say that start-ups are not offered anything in Saxony. The Free State has caught up in terms of high-tech infrastructure. It's not a given. "Ten years ago, if I wanted to talk about startups, I had to go to Berlin," recalls Karsten Schaal, Saxony regional spokesman for the German Startups Association (BVDS) and founder of the online supermarket Food.de.
Today, both Leipzig and Dresden court the young companies that will one day shape their future. There are coworking spaces, incubators and startup parties. Above all, there are many more startups than you might think: According to the BVDS Startup Monitor, a good five percent of German startups are located in Saxony. That is almost as many as in Hesse.
The scene is alive, even if this is hardly known in the rest of the republic, and it is developing considerable momentum in the shadow of Berlin. One plus point is the science clusters that were established there after reunification. Dresden alone is home to eleven Fraunhofer Institutes, five Leibniz Institutes and three Max Planck Institutes. "The location is underestimated," says Bettina Vobberg, CEO of Dresden's Hightech Startbahn, a private initiative that is putting a lot of energy into promoting the local startup scene.
Business angels? Missing. 40 years of the GDR continue to have an effect
What's missing is capital. 40 years of the GDR are having an effect. No corporations are headquartered in Dresden or Leipzig, as they play an engine elsewhere in the development of a startup scene. Nor are there grown middle-class dynasties who might try their hand at business angels. And the international investors who have settled in Berlin, just over an hour away? "For many, the way to Saxony is too far," is the experience of Justus Nagel.
And so far, the public sector has often – perhaps too often – stepped into the breach: Saxony's High-Tech Grunderfonds, with 580 million euros, is the largest seed fund in Europe. In order to distinguish itself as a location for future technology, the Free State made 200 million euros available for a biotech offensive; in total, more than half a billion euros were invested. "The idea was to catch up," says Andre Hofmann, managing director of the interest groups Biosaxony and Bio-Net Leipzig. Dresden received a bioinnovation center, Leipzig the Bio City. That was 15 years ago. The balance sheet is mixed.
After all, the cluster has led to the settlement of startups such as Sonovum, a specialist in monitoring brain functions and a finalist for the Innovation Award of German Business. CEO Rafael Salzberger praises local expertise: "In the medium term, the scene here is more sustainable than e-commerce in Berlin," he believes. If only it weren't for the lack of capital. Salzberger also needs money.
A Tuesday evening in October at VW's glass factory in Dresden, Germany. Julie Meyer takes the stage, venture capitalist and founder of the famous network First Tuesday. She is the star of Hightech Venture Days, which aims to lure the scarce resource of money to Saxony. Venture Days have been held in Dresden since 2013; this year, 48 companies pitched to 80 investors. "If you want money for your startup, you should be the best marketer in the world," Meyer inculcates to young founders. "When it comes to which company will prevail in the market, marketing is even more important than technology." This may also apply to the location itself.
Leipzig and Dresden are rivals. That can also be productive
Leipzig is considered more creative and lively than the state capital, which also has to contend with the Pegida mortgage. Last year, "Hypezig" landed in third place in a ranking of the Hamburg Institute of International Economics on growth dynamics, Dresden in tenth place. Competition between cities is similar to that between Dusseldorf and Cologne. That can also be productive. Fact is: In Leipzig, the numbers of students, including those from the West, are rising – in Dresden they are falling. Not a good signal.
Although TU Dresden has an excellent reputation in engineering and science, its start-up initiatives are manageable. "There's a scientific 'excellence' claim that doesn't primarily foster a start-up spirit," says an insider. For the time being, the start-up spirit remains the phenomenon of dedicated professors such as Gerhard Fettweis, whose Mobile News Systems chair produces one spin-off after another. With his "5G Lab," Fettweis is also building bridges between young entrepreneurs and corporations like Vodafone.
Dresden is also home to tinkerers and inventors who are always coming up with something new. Matthias Weiss, for example, an engineer who has already founded his third company. Commsolid it is called and develops energy-saving communication chips for the Internet of Things. He already has 30 employees, "the technology is brand new," and of course Weiss hopes that Commsolid will become a model company, just like Heliatek. The Dresden-based manufacturer of organic photovoltaics, founded in 2006, succeeded in raising 80 million euros in a financing round in September.
For Professor Fettweis, this shows the path the region must take to develop healthy corporate structures – with their own company headquarters. He also says the startup scene won't really blossom "until the first generation gets rich and reinvests their capital". Both can take time. "We have to be patient there," says Fettweis.
Patience doesn't mean waiting, thinks Ronald Scholz. The former CEO of the listed GK Software AG runs the incubator Sherpa Dresden and has set out to raise the software profile of the state capital. In 2015, he set up a start-up working group in the Silicon Saxony interest association. "The idea that you need an ecosystem was new there," he admits. In the meantime, the working group has 50 members and the big goal of giving Dresden's start-up activity a center. For example, in the "Kraftwerk Mitte", a disused combined heat and power plant with the creative charm of an industrial monument. "It's a place everyone is waiting for," says Scholz.
They look enviously to Leipzig, where in addition to Spinlab there is also Basislager, a coworking space founded in 2015 with 37 startups and an impressive event program: "Fuckup Nights," crowdfunding training sessions, "Startup Safaries". All events are in English. "Leipzig needs more internationality," says Basislager managing director Andre Nikolski.
What's special: Basislager sits in the home of the Leipziger Volkszeitung newspaper and is itself a startup – an attempt by the publisher to tap into new business and investment models. Which is why Nikolski, who wrote the concept, is an employee of the Leipzig publishing and printing company, which in turn is backed by the Hanover-based Madsack Group. Leipzig as the nucleus of a media transformation? Nikolski nods. "The next base camp will be opened in Kiel."